Rewiring A House
The decision to start Rewiring a house is an important one. All properties, whether domestic or commercial, are required to meet legal safety standards. The required standard is compliance with BS7671. Where the electrical installation fails to meet the minimum safety requirements of BS7671 serious consideration should be given to Rewiring a house and replacing the old wiring and accessories such as switches, light points and power outlets etc with new ones.
Decided To Rewire Your Home?
The best way to determine the current state of an installation is to have an NICEIC Periodic Inspection Report. This type of report is often carried out prior to a rewire where there is uncertainty or concern over the condition of the installation.
We are happy to carry out this report and advise you accordingly. If it is obvious that rewiring a house is needed, it is not necessary to have the report we can advise and quote for the work required.
To request a report to be undertaken, click here
Old and New Style Wiring
Standards for Electrical cables have changed a lot since wiring was first standardised in the UK. For example, the original cabling colours were very difficult to distinguish if you were colourblind, as black and red both look grey. The new standard of colours were designed to make this easier, as blue and brown can still be easily distinguished even if you are colourblind!
The table below shows what current standards are. If your home does not have these colours, it would be advisable to have your home rewired.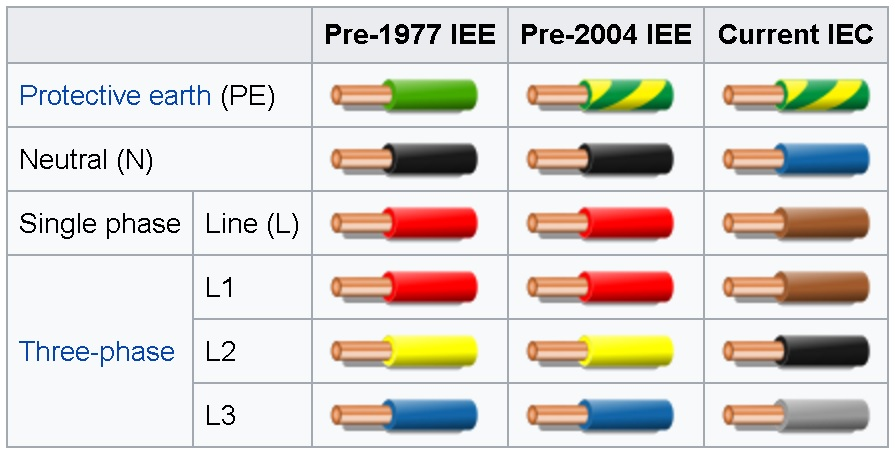 Other Examples of Old Style Wiring
The current regulations for wiring in the UK specify a PVC insulated cable for all new installations, however you may still come across other styles. Originally lead was used to coat the cables (see picture 1), as it was believed it would better dissipate electrical currents should something go wrong. However with the cost of lead going up and problems with electric shock occurring, as well as breakages in the lead, this was later switched to rubber coating (see picture 2). Eventually this too was replaced both for cost and the easy availability of PVC, as well as the ease of use.

Rewiring and New Wiring - What We Do
For both new wiring and rewiring a house we will:

Provide a free estimate
Design the circuits, including accessory locations
Install new wiring and accessories
Test and certificate the new installation with an NICEIC Certificate as appropriate.
Modifications and Extensions
We will issue an NICEIC minor Electrical Installation Works Certificate on completion of minor works that change the characteristics of that circuit. This includes the completion of any remedial work resulting from a Periodic Inspection Report or alterations to existing circuits such as additional socket outlets or light points. For new circuits, which we install and test, we would supply an Electrical Installation Certificate.

We will always supply a certificate for our work giving you complete peace of mind, giving you the knowledge that you are safe and compliant in case you want to sell your home.
Optional Extras
When carrying out a rewire we can also provide computer data cabling and wiring for phone points, TV aerial points, intruder alarm and anything requiring wiring to minimise the disruption to your home.
To book an engineer or to get a free estimate, please fill in the form using the button below.